Last Friday, October 14, was the one year anniversary of my first post. This got me to thinking about far I have come in a year. First, my house is still pretty much as I last wrote about it, so better than last October, but not where I would like it! The garage is currently enjoying a few days of being less cluttered, as Shira and I had to clear much of it so that the new garage door could be installed.  But that gave us the opportunity to start the new Jewish year with something that's new–and something good coming from something bad (the last door was accidentally crushed). The new door has windows that let the light in. A fine metaphor for starting off a new year.
It rained this morning, for the first time in oh so many months, and now in mid-October, my plumeria is finally blooming (and so are the irises). This is the first time it has ever had flowers, and I'm so excited. Another beginning.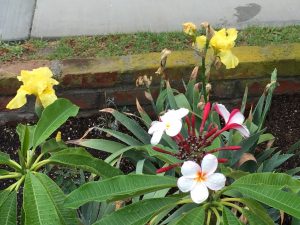 I believe I've become a lot calmer over the course of this year. I've made some new friends, on the blog and off, and I've discovered new blogs that help expand my universe. I've read a lot more fiction this year, which is truly amazing, and I've discovered a number of new podcasts that I am really enjoying.
Currently I'm listening to Happier with Gretchen Rubin. I often feel that I find these shows at exactly the right time in my life. She covers topics I've already written about, like satisficers, but also things I plan to write about, like whether you savor or spree (think Netflix and chocolate).
One of the things that Gretchen talks about is coming up with a one-word theme for the school year. Tweaking this a bit for the Jewish new year, I am choosing "productive" as my theme for the year 5777.  So I am putting it out there: I want to be more productive in writing this blog, productive in finishing the conversion of my dissertation into a companion book for The Poisonwood Bible, and productive in getting my house uncluttered and my son's room cleared out. Which brings me back to where I was a year ago, blogging about letting go and clearing out space, both mental and physical.
So dear friends, please keep me on the path to productive. I can use all the help I can get. A very happy and productive year to all of us. Let's continue to let the light in.