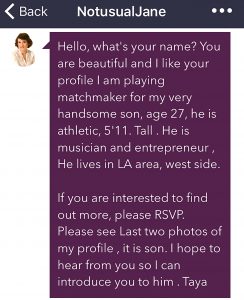 My daughter was checking her many, many messages on her many, many dating apps a while back, and she came across this one. At first Shira thought it was some woman checking her out (which has been known to happen. She is beautiful, and she is open to it), but no, it turns out the woman was matchmaking for her son. And at first, I thought she was on OK Cupid, but when she told me no, it was JDate, we both broke down in hysterical laughter. Cyber Yenta. You may have had to be there…
So we took a look and, indeed, her son is athletic and handsome, and very likely, had he approached my daughter on his own (this was before she had a BF that she found IRL), she may have been interested. But…
So here's a question… Has life really changed since matchmakers were a thing? Although I hear that matchmakers are still a thing. Isn't JDate its own kind of cyber matchmaker? Matchmaker Mom is on JDate scoping the wares for her son. I find that really funny. And maybe that's what I should have been doing for Shira, if I were really a committed mother dedicated to helping my daughter find true love. Clearly I'm slacking off in my mothering duties. And Matchmaker Mom has called herself "NotusualJane." Clearly she knows it's not usual to be making matches for your children. Doesn't she??
I then showed Shira Crossing Delancey because it's about matchmakers and dating, and even though it takes place in the eighties, it's still pretty on target. Although maybe 30 years later there aren't any more pickle men–I wouldn't know, not living in New York. But the movie is about looking in the not usual places to find your soul mate. Or maybe looking in the usual places that you are resisting.
For Shira, that has turned out to be in a DnD session–the best friend of her friend's little brother. She and her current beau are very happy together. For me, well, I'm still halfheartedly looking, both in real life and on the apps. But maybe I'm not exploring all the options. Maybe I need to start looking in LA. Maybe I need to start playing DnD (according to Shira). Or maybe… Mom, you want to help me out here?