Only Breath
Not Christian or Jew or Muslim, not Hindu
Buddhist, sufi, or zen. Not any religion
or cultural system. I am not from the East
or the West, not out of the ocean or up
from the ground, not natural or ethereal, not
composed of elements at all. I do not exist,
am not an entity in this world or in the next,
did not descend from Adam and Eve or any
origin story. My place is placeless, a trace
of the traceless. Neither body or soul.
I belong to the beloved, have seen the two
worlds as one and that one call to and know,
first, last, outer, inner, only that
breath breathing human being.
—-Mewlana Jalaluddin Rumi
[Rumi] (1207 – 1273 / Persia)
I have long thought of myself as a Renaissance woman. I am a Jill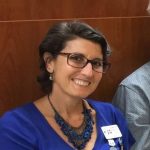 of many trades, but a master of none. I claim the titles of writer, editor, violinist, singer, professor, square dancer, and my proudest achievement (trite but true), Jewish mother to two adult children who are beginning their own journeys of discovery. My Ph.D. is in Ethics and Religion from USC; my B.A. is in World Literature from UCLA. (I have always believed that we should all just get along).
The name Skysong came from when I was practicing Wicca in the mid-nineties, and the name stuck. When I decided to create a blog that didn't have to do with Skysong Consulting, I thought Simply Skysong pretty much sums it up. It's just me. Doing the best I can, as we all are, on my journey toward mindful living.
I live in Southern California, work in the Jewish community, and love gardening, music, cooking, square dancing, nutritional healing, and listening to Books on Tape (titles ranging from Zealot to The Secret Life of Bees). I also watch The Gilmore girls with my daughter when I should be writing.